Franchising with Dune!
Combine your passion and enthusiasm with our knowledge and expertise and realise your desire to run your own business! Embark on an entrepreneurial adventure with Dune's new franchising opportunity, following on from the example set by Dune Karma in Indonesia!
Become a member of Dune's large family! Exceptionally, this message is this time addressed not only to individuals but also to professionals working in the world of diving.
As someone already managing a diving centre somewhere in the world, you are driven by your passion for the underwater environment and your desire to take all kinds of people exploring it, from snorkellers to technical divers.
As both an investor looking for a change of career and a lover of marine wildlife, your underwater activities form part of a sustainable approach centred on preserving and protecting the environment. Are you someone who enjoys passing your knowledge on to your peers, the people train and your colleagues in a fun and friendly way? Are you looking for a sense of meaning and human involvement?
If you're an entrepreneur at heart and dream of growing and expanding your network, why not do it by joining an international group with more than 20 years' experience in the day tour and cruise sector, one motivated by the same values as you are?
If you recognise yourself in this description, we're already on the same wavelength!
Two different packages for two different sets of circumstances
If you're an existing diving club looking to join the Dune network, you can find out everything you need to know about how to go about it here.
If you're an entrepreneurial diver looking to set up your own diving club with the benefit of the help and support Dune's knowledge and expertise can provide, you can find all the documentation you require here.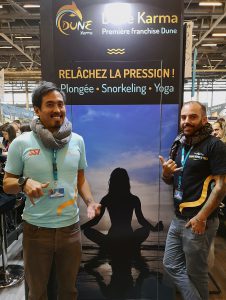 Unrivalled commercial firepower
Dune is now available as a franchise opportunity. By joining this programme, you will get to enjoy all the benefits of the help and support provided by our teams, from the process of training your own teams through to the marketing and selling of your products and services, both through our dedicated tour operator and in the French-speaking market. In addition to our visual identity recognised the world over, you will also have access to our management and booking tool and benefit from the guaranteed recognition our marketing power provides: your diving centre on the far side of the world will be visible in the press, on the internet, on social networks and at international trade shows and be just a click away from any diver, no matter where they are.
Bring entrepreneurial ambition and passionate enthusiasm together with safety and expert know-how by contacting Dune's franchise development manager Eléonore today, or do it directly via our contact form right here!